Morrison's General Store
5 Main Street North (now RBC)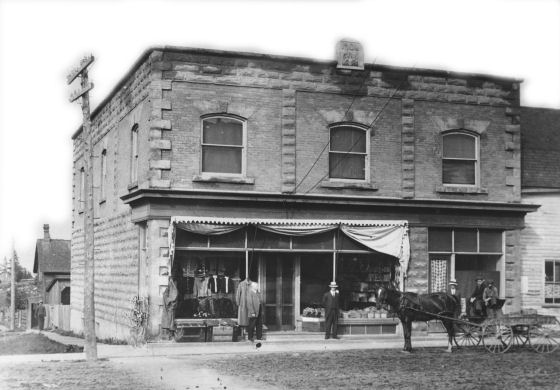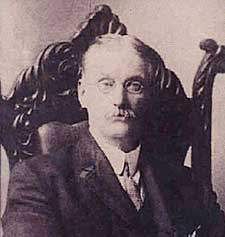 George Morrison was the first Reeve of Callander, and was the owner of the farm lot which he subdivided and registered in 1884 to create the original core of Callander, including Lansdowne, Main, Catherine, First, High, King and Burritt Streets. He is credited with naming the town Callander, after the town of Callander in Scotland.
He opened his first store in 1880, and opened a post office in the store 1st June 1881. Tragically, it burned down 3 weeks later and his year-old son Hector died in the fire. He then built a hotel, the Pacific, on the site of the current Callander Square parking lot across the street and kept the post office in his house, which was beside the current LCBO at 55 Main Street North. The house burned July 9th, 2012. The first public telephone arrived in Callander in 1908 and was located in the front of the store, with phone number 59 ring 5.
The township was organized in 1885, with elections in 1885 and the first council taking office in 1886 with George Morrison as Reeve; Ed Fisher, Thomas Darling and Fred Kilby as councillors, and Gideon Cronkhite, Town Clerk. George, and his son George Kenneth (Ken), served as Reeve for forty-five of Callander's first sixty years.
George Morrison sold the Pacific Hotel to Thomas Henry Swale, (for whom Swale Street is named) and built his store at the corner of Main and Lansdowne. At one time, there were gasoline pumps in front of the store that had to be pumped by hand. They were right out in the roadway, not on store property, but there was little danger because of the sparseness of the traffic. On the 1915 fire station map, the tank is shown as having a capacity of 340 gallons, stored underground.
Later, Morrison's store became the Hodges Red & White Food Store and, in 1974, Callander's Royal Bank of Canada branch.