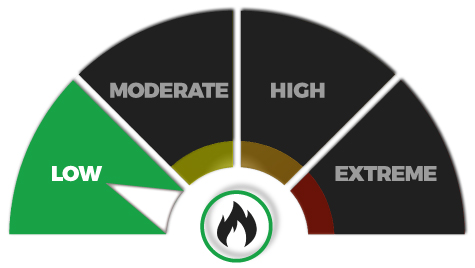 Daytime burning NOT permitted from April 1st to October 31st
Daytime is defined as 2 hours after sunrise until 2 hours prior to sunset
Fire permits MUST be purchased for all Open-Air Burning (including campfires for cooking and warmth)
Fire & Emergency Services
---
We are pleased to announce that Open-Air Burning Permits (aka Fire Permit), Animal Tags, and Garbage Bag Tags can be purchased online directly through our website.
Online purchases can be made using visa, Mastercard, or Interac Online banking. You do not need to print the permit as it automatically updates our database.

$10.00 for 7 days
$35.00 for 1 Year
As an alternative to purchasing online, please note that services can also be purchased directly at the Municipal Office.
If you need any assistance, you can contact us at 705-752-1410 x221.
Please read the attached brochure (May 25, 2021)
CLICK HERE TO VIEW COOKING FIRE SAFETY INFO SHEET
CLICK HERE TO VIEW CHECK THE DATE INFO SHEET
Police
---
Police services within the Municipality of Callander are provided by the Ontario Provincial Police.
911A Gormanville Rd.
North Bay, ON P1B 8G3
Non-emergency Calls (requiring police response): 1-888-310-1122
General inquiries: Business Office: (705) 495-3878
Online reporting is available on opp.ca for occurrences including:
Lost/missing property

Stolen license plates or validation stickers

Theft from a vehicle

Mischief to a vehicle

Mischief (damage to property other than a vehicle, including graffiti)

Theft

Gas Theft

Driving Complaints
The Municipality has recently passed its Community Safety and Well-Being Plan, please see the report here Regional Community Safety & Well-Being Plan
Click here to read the Callander Emergency Response Plan.
Fire
---
Callander Fire & Emergency Services is dedicated to the protection of our residents and visitors. A full time Fire Chief. Part-Time Deputy Fire Chief and 24 volunteer firefighters operate out of two fire stations. The firefighters are trained to NFPA (National Fire Protection Association) standards and provide a professional service and emergency response to fires, motor vehicle collisions, emergency medical incidents, ice rescues, human and natural disasters, fire prevention and public education activities.
Municipality of Callander Fire Department Establishing and Regulating By-law 2019-1613
Todd Daley, Fire Chief
Phone: (705) 752-1410 Ext. 225
Fax: (705) 752-3550
tdaley@callander.ca
Marvin Miller, By-law Enforcement Officer
Phone: (705) 752-1410 Ext. 223
Fax: (705) 752-3550
mmiller@callander.ca
Jim Warren, Deputy Fire Chief
Phone: (705) 752-1410 Ext. 234
jwarren@callander.ca
Callander Fire – Station One
250 Main St. North
P.O. Box 100, Callander, ON P0H 1H0
Callander Fire - Station Two
1875 Hwy. 654
P.O. Box 100, Callander, ON P0H 1H0
Fire Prevention Information
---
Carbon Monoxide
Smoke Alarms
Plan Your Escape
Cooking
Home Fire Safety
Safe Student Accommodations
A Few Other Topics
Open Air Burning
---
Open Air Burning Permits are required before setting any open fire, including campfires for cooking and warmth, within the Municipality of Callander. Permits are available at the Municipal Office, 280 Main Street North.
The Ontario Fire Code (Part 2 Section 2.6, Article 2.6.3.4) states that "open air burning shall not be permitted unless approved or unless such burning consists of a small, confined fire, supervised at all times, and used to cook food on a grill or barbeque".
The burning of any material, in the open air, within the Municipality of Callander is governed by By-law 2015-1446, which was approved by Council on March 24, 2015.
By-law 2015-1446 applies to the setting and control of all fires in the open air and on all lands within the geographical limits of the Municipality of Callander. A fire wholly contained within a permanent or portable barbeque used for the preparation of food for human consumption is not considered an open air fire under this By-law.
Before setting, or permitting the setting of, an open air fire, the owner of the land upon which the fire is to be set must obtain a Fire Permit from the Municipality of Callander.
Specific Restrictions
The following is a partial list of some of the open air burning restrictions. Please refer to the Open Air By-law for a complete description of restrictions and your responsibilities.
Fire Season Period (April 1 to October 31, inclusive):
Open Air fires shall only be permitted to burn during the fire season during the period beginning 2 hours before sunset and ending 2 hours after sunrise. The fire season in Callander begins on the first day of April and ends on the last day of October each year.
Fires in Public Places:
Open Air fires are not permitted on any highway, park, walkway, public land or on any Municipally owned lands without written permission from the Fire Chief or his/her designated official.
Fires on Non-owned Lands:
No person shall set or allow a fire to burn on any land he/she is not the registered owner of without the written permission of the registered owner.
Restricted Fire Zones:
No person shall start, permit, or allow the burning of any fire during or within a Restricted Fire zone.
Forbidden Materials:
The burning of industrial waste, agricultural waste, domestic waste, petroleum products, rubber, painted (or treated) lumber, mixed demolition debris, any material that will cause excessive smoke or harmful fumes, as well as any other material identified in regulations contained in the Environmental Protection Act is not permitted.
Fire Extinguishing Costs:
If Callander Fire and Emergency Services is called to respond to a fire either set or permitted to burn, in violation of the Open Air By-law, the person and/or the property owner who set the fire or allowed it to burn shall pay all costs incurred by Callander Fire and Emergency Services to extinguish the fire. Costs included are those for all personnel, equipment, and apparatus dispatched and used to extinguish the fire.
Costs will be calculated at the current MTO rate (as of May 27, 2019 the MTO rate is $477.00/hour) for each firefighting apparatus, plus personnel, plus any additional costs. Time will be charged from the receipt of the alarm through to the time all responding personnel leave the location of the fire and return to their respective stations.
If the costs of extinguishing of an unauthorized open air fire are not paid, as outlined above, in addition to any other remedies the Municipality may have, the costs shall be recovered in the same manner as municipal property taxes in accordance with Section 398(2)2 of the Municipal Act S.O. 2001, c.25 against the owner of the land.
Emergency Preparedness Information