Quick Links:
Commemorative Trees and Benches Program
Parks & Facilities
Callander Community Centre

1984 Swale Street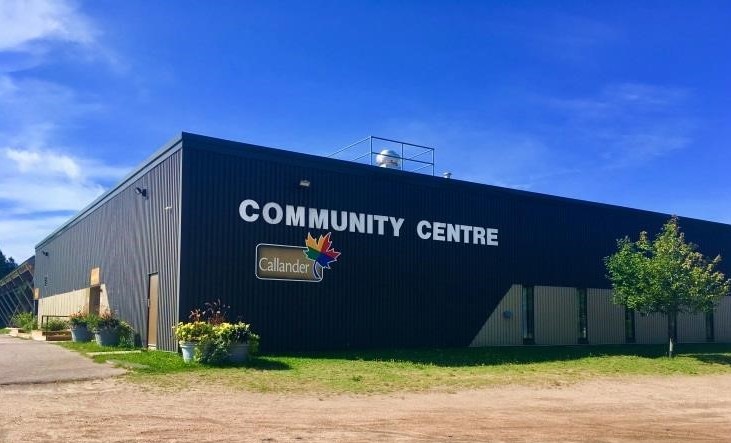 The Callander Community Centre is the community's hub for recreational activities. The Centre includes a commercial kitchen and the following included locations that are available for use.
The Large Hall can accommodate up to 350 (classroom seating) or 200 (sitting at tables) people. It has a designated bar area with walk-in cooler and a large kitchen, making it ideal for a variety of big events including weddings, conferences and concerts.
The commercial-grade kitchen is located next to the Large Hall. With ample counterspace, this 24' x 30' space is fully equipped with a gas stove, microwave, commercial dish washer, large freezer, fridges, dishes, utensils and cutlery. It is included in the Large Hall rental and can also be rented separately for food-related activities, including commercial food production.
The Orton Room can accommodate 75 (classroom seating) or 40 (sitting at tables) people and is typically used for meetings and small functions.
The Bill Barber Complex boasts an award-winning covered structure that offers significant protection from the elements throughout the year. During the summer months, the complex accommodates weddings, concerts, community events and recreational activities. During the winter months, it becomes an outdoor public skating rink that is available for rent.

The Bill Barber Arena functions as a public skating rink in the winter months. The public skating schedule will be posted here and on social media once the rink is open. The length of the skating season is subject to the weather.

The rink is also available for private rentals during the skating season during specific times, as seen in the schedule.



The Yarlasky Field is a busy location in the summer, hosting groups and families engaged in soccer, baseball and cricket. The field can be rented for weekly team practices.
The Skateboard Park is located behind the Callander Community Centre. There is no fee for using the park. General safety rules apply. The park is unsupervised and is open May through October. It is used by youth who enjoy BMX style biking, skate boarding and scooting.




The Pickleball/Tennis Courts are situated next to the Bill Barber Complex and are available free of charge on a first-come-first-serve basis, one hour at a time.
South Shore Community Centre

1875 Highway 654 West

The South Shore Community Centre building is wheel-chair accessible and can accommodate up to 40 people. The Centre is a popular venue for meetings, parties and boardgame activities.
| | |
| --- | --- |
| The main floor has a room that can accommodate up to 40 people, has a small kitchenette and two wheel-chair accessible restrooms. | |
| | The lower floor of the building houses a change room, conveniently situated next to the outdoor skating rink. |
| The South Shore Community Centre also includes soccer and baseball fields, equipped with bleachers. | |
| | The Ice Rink is uncovered, and usually has a shorter skating season due to the weather conditions. The Rink is open for public skating all season, and is unavailable for private rentals. |
Centennial Park

Located in the heart of Callander on the shores of Lake Nipissing, Centennial Park includes a splash pad, beach, play/exercise equipment and a shelter for picnics. It is a popular gathering place for all ages and an attractive destination for a stroll.
The Hector "Hec" Lavigne Memorial Pavilion in Centennial Park is available for rent and accommodates many birthday parties and gatherings during the summer months.

The Pavilion is only available for private rentals during certain times. For available times, view the Pavilion Rental Schedule.

To book the pavilion, you must submit the Facility Rental Application.
Memory Tree Park
Simple and scenic Memory Tree Park, located along Main Street South, provides a quiet place to enjoy spectacular views of Lake Nipissing.
Veteran's Ridge
Veteran's Ridge is located across from Centennial Park, and is perfect for peace and quiet.

Facility Rentals
Several of the above municipal facilities can be rented for a variety of events/programming such as for conferences, recreational activities, weddings, birthday parties, funeral services, craft sales and more. Please direct inquiries to the facility rental coordinator at info@callander.ca or call 705-752-1410 x 221. Community organizations wishing to offer programs to the public may be eligible for Community Affiliate Status, which waives facility rental fees. For more information on becoming a Community Affiliate, please see the Community Affiliate Application Form.

Important Rental Documents:
Noise By-Law Exemption Application Form
Callander Municipal Facility Rental Rates

2023
Facility

Daily

Half Day

Hourly

Callander Community Centre

Large Hall / Kitchen and Bar

$400

$250

$50

Kitchen ONLY

$150

$85

$20

Bill Barber Complex - includes Orton Room (when bare – no ice rink)

$300

$175

$35

Bill Barber Complex – includes Orton Room (when ice rink is operational)

N/A

N/A

$80

Orton Room ONLY

$150

$85

$20

Wedding Special – 1pm Friday to 2pm Sunday for rental of Large Hall, Kitchen, and Orton Room.


$800

N/A

N/A

Wedding Special – 1pm Friday to 2pm Sunday for rental of Large Hall and Kitchen, Orton Room AND Bill Barber Arena.


$1,000

N/A

N/A

Yarlasky Athletic Field

$100

$50

$15

South Shore Community Centre

Community Centre and Rink

$100

$40

$15

Community Centre Upstairs Meeting Room ONLY

$50

$25

$15

Rink ONLY (includes changerooms/washrooms)

$50

$25

$15

South Shore Athletic Field

$50

$25

$15

Centennial Park

Picnic Shelter (first come first serve only)

N/A

N/A

N/A

Pavilion

Minimum two-hour rental for all pavilion rentals

$250 (filming only)

N/A

$25

Move Pavilion furniture from Pavilion $400 (Minimum four-hour rental required)

Key Deposit $50

Noise By-Law Exemption for Event $75

NOTE: The above fees do not include HST, which is required for all facility rentals. For more information, please email info@callander.ca.

These rates are subject to change without notice and are reviewed on an annual basis.

Half day = up to 6 hours

Full Day = anything over 6 hours

The Renter is responsible for ALL set up and clean up associated with the event/rental.
The Hec Lavigne Memorial Pavilion in Centennial Park is only available for rental during the attached schedule.
Commemorative Trees and Benches Program
Note: We are currently updating this policy, so there may be a few changes in the near future.
The Municipality of Callander's Commemorative Tree and Bench Program is available for anyone who wishes to give a lasting legacy in the community. The gift is yours to give, whether it is to honour a loved one, a deceased animal, an experience, an organization, or perhaps to recognize an important event in your life. Some may also wish to honour an important event for the planet, such as Earth Day, or National Wildlife Day. Whatever your reason, your commemoration will be a beautiful addition to the Municipality of Callander.


In the spring of 2023, Municipal Staff installed a number of commemorative benches to be readied for sponsorship. If you are interested in sponsoring one of these benches, please read our Commemorative Naming Policy, and return the filled in form at the end of the policy to us in person at 280 Main Street North, or by email to info@callander.ca. We will then be in touch to arrange all the details, including the design and installation of the commemorative plaque.